You are here
Back to top
The Royal Rabbits of London (Hardcover)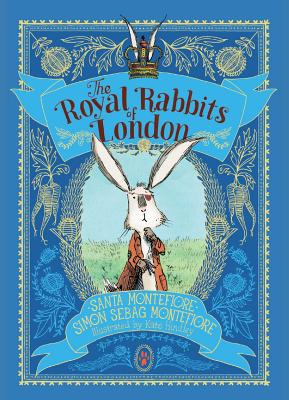 $16.99
Usually Ships in 1-5 Days
Description
---
Mrs. Frisby and the Rats of NIMH meets Warriors in this charming novel that proves that even the smallest rabbit can be the biggest hero from publishing power couple Santa and Simon Sebag Montefiore.

Life is an adventure. Anything in the world is possible—by will and by luck, with a moist carrot, a wet nose, and a slice of mad courage!

Shylo has always been the runt of the litter, the weakest and quietest of all of his family. His siblings spend their days making fun of him for not being like the rest of them. But when Shylo stumbles across a band of ratzis and overhears their evil plan to take a photo of the Queen in her nightie, it's up to this unlikely hero to travel to London and inform the Royal Rabbits of London about the diabolical plot! The Royal Rabbits of London have a proud history of protecting the royal family and now the secret society need to leap into action to stop the ratzis…

But can a rabbit as feeble and shy as Shylo convince them that Queen is in danger?
About the Author
---
Santa Montefiore's books have been translated into more than twenty-five languages and have sold more than six million copies in England and Europe. She is married to writer Simon Sebag Montefiore. They live with their two children, Lily and Sasha, in London. Visit her at SantaMontefiore.co.uk.
Simon Sebag Montefiore's bestselling and prize-winning books are now published in over forty-five languages. His new book
The Romanovs: 1613–1918
has been universally acclaimed and is already a bestseller in the UK, Australia, and the USA where it was on the
New York Times
bestseller list for eight weeks. Montefiore has won literary prizes for both fiction and nonfiction. His latest novel,
One Night in Winter
won the Best Political Novel of the Year Prize and was longlisted for the Orwell Prize. He is now writing the third novel in this trilogy. Follow Simon on Twitter at @SimonMontefiore. For more information visit SimonSebagMontefiore.com.
Kate Hindley studied illustration at Falmouth College of Art, and went on to work for two years as a children's print designer at a studio in Northampton, whilst working freelance on children's books and greetings cards. The first picture book she illustrated for Simon & Schuster was The Great Snortle Hunt by Claire Freedman, with whom she has also created Oliver and Patch and The Lost Penguin. Kate has also illustrated How to Wash a Woolly Mammoth by Michelle Robinson and the award-winning You Must Bring a Hat by Simon Philip, as well as the acclaimed The Royal Rabbits of London fiction series by Santa Montefiore and Simon Sebag Montefiore.
Things Kate finds inspiring include Bob Godfrey, Richard Scarry, The Magic Roundabout (in particular Dougal and the Blue Cat), and Sharps Doom Bar. She lives in Bristol.
Praise For…
---
"A quiet young bunny longing for adventure becomes involved with a band of elite rabbits dedicated to safeguarding the royal family of England. . . . An eccentric cast of secret operative and commando rabbits plus lively black-and-white illustrations add a comic flair. A humorous, fast-paced adventure with a surprisingly engaging and inspiring hero who discovers 'anything in the world is possible.'"--Kirkus

Shylo, with his sensitive nose and quick wits, proves that "by will and by luck, with a moist carrot, a wet nose, and a slice of mad courage," anything is possible. Words to live by.
— Booklist

Shylo wends his way to London and, conquering fears and self-doubt, leads the delightfully eccentric Royal Rabbits on a labyrinthine search for a secret tunnel to foil the rats' paparazzi-style scheme. Composed of whisker-thin lines, newcomer Hindley's scratchy b&w illustrations echo the classic qualities of this polished animal fantasy driven, of all things, by a defense of one's right to privacy in a digital world.
— Publisher's Weekly